December 17, 2008 - Wednesday
Merry Christmas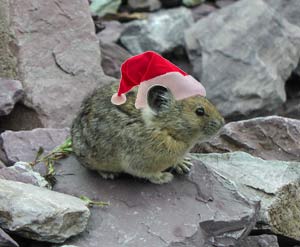 The creatures of Glacier National Park deal with winter in many different ways. While the bears are hibernating and the goats are foraging on south facing cliffs, the diminutive pika is nestled in his den munching on the piles of grasses he gathered during the summer.
I also like to think that he uses some of those grasses to make decorative wreaths, goes caroling at his neighbor's den and swaps gifts of nuts and berries with his family.
Whether you are hibernating like a bear or partying like a pika, the chalet staff would like to wish you a Merry Christmas and a happy holiday season!
Here in our office we are planning a short break over the holidays. The office will be closed from December 24 through New Years. We will be back to help you on Monday, January 5.
November 19, 2008 - Wednesday
Closing for Thanksgiving
We will be closing our office for the week of November 23 through November 30 so that our staff can spend time with their family and friends over the Thanksgiving holiday. We hope you get a chance to enjoy extra time with your loved ones as well.
If you have sent your reservation deposit and it has not yet been processed, don't worry. All reservations will be secure until we get a chance to catch up on business after the holiday. We will not be able to answer the phone during the Thanksgiving week, if you have business to attend to please send an E-mail. We will reply the first opportunity we have.
This year I have been reminded of how many kind and generous people there are visiting the backcountry of Glacier Park. This Thanksgiving I would like to say a special thanks to the wonderful people I have met at the chalets and on the trails.
Happy Thanksgiving.
October 29, 2008 - Wednesday
New Reservations
Thanks to everyone for your patience as we work through our initial reservations requests. We are thrilled with how eager everyone is to come visit us in the summer.
We guarantee we will process every one of your reservation requests. If you are still waiting to hear back from an online request, we are sorry for the delay. Our staff is giving each of the hundreds of requests the personal attention it needs to make sure your reservations are correct. We may not be able to respond as quickly as the big hotel chains, but the chalets are special places and we are trying to give everyone the best vacation possible.
Some popular dates in the summer have already sold out. We will keep you informed through our online availability calendar. If you have flexibility and alternate dates, that makes it easier to get you a room.
Thanks
October 27, 2008 - Monday
Now accepting reservations for 2009
Please see our reservations page for details or to place an online reservation request.
Our first week accepting reservations is typically very busy. Thank you for your patience if our phones are busy or if you do not hear back from your online request right away. Due to the backlog of online requests our online availability calendar cannot keep up. Any availability displayed there is not guaranteed.
Thanks
October 22, 2008 - Wednesday
Summer of 2009
We now have our operating dates for the 2009 season.
Sperry Chalet will be open July 8 through September 9.
If you are planning a visit to Granite Park Chalet as well, the Granite Park Chalet will be open June 30 through September 7.
We begin accepting reservations on Monday, October 27. We are looking forward to helping you plan your visit to the chalets.
October 6, 2008 - Monday
2009 reservations
We will begin accepting reservations for the 2009 season beginning on October 27. Reservations can be made through our toll free phone line or from this web site. Any reservation requests sent earlier than October 27 will be discarded.
We are still working on the opening and closing dates for 2009. As soon as we know, we will publish the dates right here.
Thanks
September 8, 2008 - Monday
Closed for the season
Granite Park Chalet and Sperry Chalet are now closed for the winter.
On behalf of our staff, the crews up at the chalets and the office team down below, I would like to say a heart felt "Thank You" to all of our guests. We are thrilled that you shared part of your vacation with us and helped us enjoy a fantastic summer.
The reservation office will be closed for several weeks while we start getting ready for 2009. Important announcements and information about 2009 reservations and operating dates will be coming soon. Watch this space.
Happy Trails
August 29, 2008 - Friday
Summers End
A reminder to all the ambitious hikers visiting us next week, the last day for the Going-to-the-Sun Road shuttle is Labor Day, September 1. After that your best choice for visiting the chalet is to hike the same trail back to your vehicle that you came in on. There will be no public transportation available from one trailhead to another.
Sperry Chalet is closing for the season on September 7. Day hikers and riders can still get trail rides and chalet lunches up through Sunday the 7th. No services will be available Monday the 8th.
The weather forecast for this next week has both rainy days and sunny days in it. Be ready for anything while hiking. Be sure to stay warm and dry.
Happy Trails
August 22, 2008 - Friday
Hiking to Sperry
One of the best kept secrets of Glacier Park is how nice the hiking is in late August and September. Those of you planning your visit in the next couple weeks are in for a treat; a lot fewer bugs and cool easy walking. Cooler temperatures make the hiking easier, but don't forget to bring some warm clothes for when the hiking is over. A warm hat and gloves won't take up too much space in your pack and squeeze in some long underwear if you have the room. Mother nature may still have some warm nice days in store for us, but it is better to be safe than sorry.
Always pack your rain gear too. I got caught in a rainstorm while hiking over Gunsight Pass last week, but I had my waterproof layer and stayed warm and dry. Hiking in the rain turned out to be the most fun I have had on the trail in a long time.
There are still some snow patches on the trail near Gunsight Pass. One you have to cross and two that you can skirt under. I did not find them to be too treacherous, but if you are uncomfortable on snow or new to wilderness hiking, the Sperry Trail may be your best choice this year. The really exciting part of that trail was the water crossing at the head of lake Ellen Wilson. Be prepared to get wet, the water is shin deep, fast moving and cold. The rocks and footing are pretty slippery too. Be really careful, trekking poles will help you here. I was wishing I had brought my gaiters, but the dry socks in my pack saved the day.
Happy Hiking
August 6, 2008 - Wednesday
Summer at Sperry Chalet
Looking around now it is hard to believe that the snow was such a big deal a few short weeks ago. The snow around the chalet is gone and we are enjoying some of the nicest hiking weather that Glacier Park has to offer.
The east side of Gunsight Pass still has some snow crossings. Advanced and experienced hikers have reported no problems, but a few beginning hikers have told me that the snow can be quite intimidating. If you are new to backcountry hiking or have trouble with snow, you will probably want to use the main Sperry trail from Lake McDonald Lodge instead of the longer, harder, Gunsight Pass trail.
There are also patches of snow remaining on the Sperry Glacier trail. The good news is that these are not in dangerous locations and easy to cross. All hiking skill levels are having a good time visiting Sperry Glacier.
Happy Hiking
July 30, 2008 - Wednesday
Sperry Chalet Tee Shirts
Why are these guys smiling?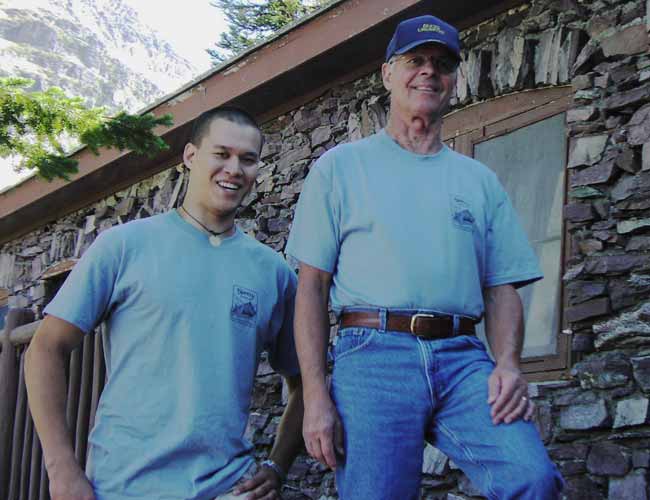 Sperry Chalet brings smiles out of most people, but Ryan and Albert are particularly thrilled because they just got their new Sperry Chalet tee shirts.
You could be looking good and smiling big too, after a quick trip to our online gift shop. Grizzlygoat.com is the brand new, official, online gift shop for Sperry Chalet. There are shirts available there now, and soon there will be even more gifts and clothing to help you show off your favorite backcountry chalet.
Happy Trails
July 20, 2008 - Sunday
The Gunsight Pass Trail
Glacier National Park has provided some new information about the Gunsight Pass Trail, particularly on the dangerous east side of the pass. Let me quote you directly from the park service trail status reports:
Two prominent snow fields remain 1/2 mile before Gunsight Pass. These east-facing snow fields are low-angle with a 100yard runout to talus below. Careful footing is required; ice axes are not necessary, but would be helpful. The last 200yards of trail leading to the Pass is completely snow-covered. The approach to the Pass is negotiable by heading up and left of the snow slope to level snow-pack: 7/18/08 per 623
This information is consistent with the reports we are getting from our Sperry employees. The Sperry crew is also reporting a tricky water crossing on this trail at the head of Lake Ellen Wilson. Be prepared to get your feet wet if you go this way. Most of the snow on the west side of Gunsight Pass has melted away, there are still some snow fields near Lincoln Pass that are easy to negotiate.
A special shout of thanks goes out to the Sperry shovel brigade of 2008 for their fine work at clearing snow from the last half mile of the Sperry Trail. You may still find some slushy or wet spots, but you can now get up the Sperry Trail without scrambling over snowdrifts.
Happy Hiking
July 16, 2008 - Wednesday
Sperry snow and trail report
What an amazing summer this is turning out to be. Glacier National Park is still enjoying an impressive amount of snow in the high country. It is having the miraculous effect of turning adults into children. I have seen snowmen, snowball fights and lots of sledding and sliding from a good number of grownups.
Around Sperry Chalet, all the trails between the buildings have been shoveled and cleared, so it is possible to enjoy the chalet in your sandals and light shoes. But beware, one misstep can result in wet or cold feet. All the trails leading in and out from the chalet are still snow covered, so waterproof boots and extra dry socks are highly recommended.
Many adventurous people have traveled the Sperry Glacier trail. There are steep snow fields that need to be traversed and snow bridges in places. This can be very dangerous, so be careful out there. At a minimum you should be carrying trekking poles, if you have ice axes, crampons or any sort of extra shoe traction, bring them.
The trail to Lake Ellen Wilson is proving to be very popular this year because it is currently easier than the Sperry Glacier trail. The trail between Sperry Chalet and the Sperry Campground is completely hidden by snow, stay heads up and aware so you don't get lost in the trees. Be prepared to climb and traverse snow following the trail up and over Lincoln Pass, and on the far side of the pass be ready for more snow.
Crossing Gunsight Pass is still a bad idea. The east side of the pass has steep snowfields with deadly precipices below them. Crossing these is best left to advanced mountaineers with all the appropriate equipment and experience. There is no official forecast for when this trail may become passable; my guess is mid August.
None of these trails are currently closed by the park, but that does not mean they are safe. Hike at your own risk. Please be safe and always stay within your own limits and comfort level.
For the most up to date information on trail conditions, check the park trail status reports online. You can also get this information from any visitor center in the park. When you get to Sperry you may also ask the staff about the trails. They have been out on them regularly and can give you good information for planning your hike.
Happy trails. Winter is almost over.
July 6, 2008 - Sunday
Sperry Chalet is open
We are thrilled to see our overnight guests beginning to arrive and we can't wait until you get here. Teri has a pot of soup on the stove, Karen has taken charge of the coffee, and I can't stop raving about the homemade bread that Albert is baking.
Even if you can't spend the night, you are more than welcome to visit us for the day. We will be serving lunch to back country visitors from 11:30 to 5:00 every day. As soon as the snow permits you will also be able to ride up on horseback with the Swan Mountain Outfitters.
There may still be snow on the ground, but that is not stopping the adventurous hikers who love the Glacier Park backcountry. The first few guests I had a chance to meet were all impressed with how different and beautiful the chalet looks in the snow.
When you get to Sperry be sure to say hello to the crew. Karen, Albert, Ryan, Chris, Kaitlyn, Cora, Rachel, Teri, and David will be happy to help you enjoy Sperry Chalet this year.
July 1, 2008 - Tuesday
Sperry Chalet Snow Report
The Sperry crew has arrived at Sperry Chalet and they are hard at work getting ready for your visit. The big news from Sperry Chalet is that we have an unprecedented amount of snow this year. Please don't let this discourage you from visiting, this is a fantastic opportunity to see Sperry Chalet and the backcountry of Glacier in a way that very few people ever experience.
If you are arriving any time before July 15, you should come prepared for snow. Expect to find patches of snow anywhere along the last mile of trail, and the last 1/3 mile will be completely snow covered. The trail is not difficult to find, there are orange markers in the trees and the crew has tread a path to follow.
The snow is not particularly difficult to walk on. It will be firm in the morning hours and perhaps a little icy. In the afternoon it softens up quite a bit and you will likely sink in a few inches in spots. It is strongly recommended that you have sturdy, waterproof footwear, and bring extra dry socks.
The restrooms, all the buildings and the water supply will be dug out and ready for you when you arrive.
The trail to Sperry Glacier is completely snow covered. If you want to attempt the trek to Sperry Glacier this July, especially in early July, we recommend you bring ice axes, crampons, and know how to use them.
We do not have a report on the Gunsight Pass trail, but the safe assumption is that it is just as snow covered as the rest of the high country. There are places on Gunsight Pass with very dangerous exposure. This means the trail crosses steep snow fields with precipices and cliffs at the bottom. It is very dangerous and not recommended for anyone except experienced and equipped mountaineers.
Please be safe when hiking. With a little caution and preparation, your snowy visit to Sperry Chalet could turn into a once in a lifetime magical experience. The goats can't wait to meet you.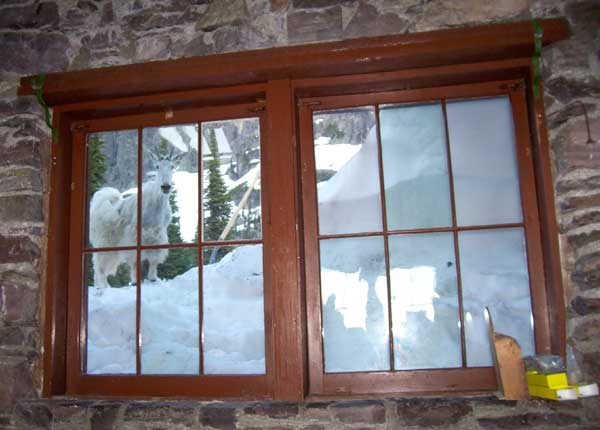 June 28, 2008 - Saturday
Going-to-the-Sun Road is OPEN
Going-to-the-Sun Road is open to Big Bend as of noon on Saturday, June 28. Access into the alpine section will only be available from 7 a.m. until 9 p.m. Outside these hours, west side vehicle travel will terminate at Avalanche.
Park road crews, assisted by park trail crews, will be working throughout the weekend to prepare for the safe opening of the entire road. There will be no hiker/biker access beyond Big Bend for several days. On the east side, there will be a hiker/biker closure at "No Stump Point"
which is just beyond Siyeh Bend.
"If the weather continues to hold, and if there are no unanticipated obstacles, we should be able to open the entire road for at least part of the holiday weekend." said Superintendent Chas Cartwright.
For current road condition information, visit the park's road status Website http://www.nps.gov/applications/glac/roadstatus/roadstatus.cfm.
Current road conditions are also available by calling 511, the Montana Department of Transportation Traveler Information System. If your phone does not support 511, call 1-800-226-7623. Both numbers are toll-free. Select "Glacier Park Tourist Information" from the main menu to hear Glacier's road report.
June 16, 2008 - Monday
Glacier National Park Centennial Fundraiser
Glacier National Park's hundredth anniversary is not until 2010, but Sperry Chalet is starting the party early. On July 4 Sperry Chalet will be hosting a fundraiser to help ensure that Glacier Park's upcoming centennial milestone will be celebrated and honored appropriately.
For a donation of $250 per person you can enjoy a nights stay at Sperry Chalet on July 4. All proceeds will be donated 100% to Glacier National Park to use for celebrating the park centennial.
This is an opportunity to enjoy the beauty and hospitality of Sperry Chalet before we open to the public. We are purposely keeping the guest count low so that your visit will be intimate and quiet. We are also expecting some special guests to be joining us, it promises to be a special night.
There are a few rooms left in our fundraiser, please call the Sperry Chalet reservation office if you would like to participate. Space is limited and the openings will be reserved first come, first served.
June 6, 2008 - Friday
Going-to-the-Sun Road
This year is the Going-to-the-Sun Roads 75th anniversary! It was July 15, 1933 that Glacier National Park formally opened the road across Logan Pass. Lots of us here in the park will be commemorating and celebrating this engineering marvel this summer. Be sure to take a some time to enjoy this incredible road when you visit the park this year. There is even a free shuttle system so you don't have to do the driving.
If you have a little extra time during your vacation I want to recommend a visit to the Hockaday Museum of Art in Kalispell, (http://www.hockadaymuseum.org/) this summer they are hosting an exhibition celebrating the 75th anniversary of Going-to-the-Sun Road.
The Sun Road restoration project will still be ongoing this year. The park assures us that the entire length of the road will be open to vehicle traffic, but expect delays in the construction zones.
Of course the big question on many peoples minds is: when will the road be open to Logan Pass? The unfortunate answer is: we don't know. What we do know is that you can keep tabs on the road status online.
You can see how much of the road is open.
You can check on the location of the plows.
And my favorite is the plowing photos and video.
After you arrive in Glacier you can always get up to date road information from any park visitor center.
I hope you have a spectacular vacation.
May 5, 2008 - Monday
Friendly reminder, administrative fees are coming soon.
As we get closer to summer and you get your travel plans ready, we want to remind you that starting June 1st there will be a $10.00 fee for all reservation changes or cancellations.
The month of May is your last opportunity to change or cancel your reservation without penalty. Please call the reservation office if you have any questions.
April 3, 2008 - Thursday
Signs of spring.
Spring plowing of Going to the Sun road is getting underway this first week in April, (NPS Press Release). Along with longer days and emerging bears, this is enough to get me excited for summer hiking in the park.
The park service is currently planning to have the entire Going to the Sun Road open to vehicular traffic on Friday, June 13. We can follow the progress of the snowplows online.
Looking forward to happy trails.
March 4, 2008 - Tuesday
Frequently Asked Questions
We have added a new page to our website. The FAQ page with answers to all the most common questions. If you are curious about anything to do with visiting the chalet; trails, food, reservations or restrooms, check the FAQ list for the answer.
Happy Trails
Look up old news:
2007 2008 2009 2010 2011 2012 2013 2014 2015 2016 2017 2018 2019 2020 2021 2022