December 6, 2016 - Tuesday
2017 Fares
With the help of the National Park Service, we now have all the fares and operating dates for the 2017 season approved.
Granite Park Chalet:
$106 for the first person in a room, $80 for each additional person.
Open from June 27 through September 10.
Sperry Chalet:
$222 for the first person in a room, $150 for each additional person.
Open from July 9 through September 10.
Reservations open on January 9th, 8:00am mountain time. The best, fastest, easiest way to make your reservation will be through this website.
We are looking forward to hearing from you in the new year. Until then, enjoy your holidays!
Merry Christmas from the backcountry of Glacier National Park.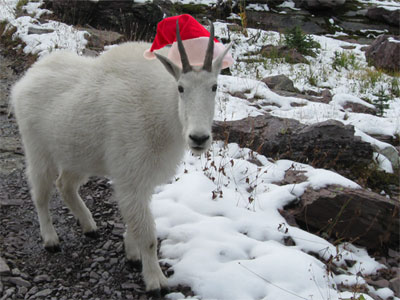 November 7, 2016 - Monday
Planning ahead to 2017
If you are thinking about a chalet reservation for the summer of 2017, here are some dates to know:
Reservations open on January 9th. 8:00am Mountain time zone.
Granite Park Chalet will be open June 27 through September 10.
Sperry Chalet will be open July 9 through September 10.
We hope you will get a chance to come and visit.
October 17, 2016 - Monday
Thanks Elena
We would like to shout out a hearty Thank You! to Elena Maza Borkland for joining us this past summer as our resident artist at Sperry Chalet.

Elena specializes in botany illustrations and with the abundance of subject matter just outside the Sperry doorstep she enjoyed a very productive hitch with her pallets, pencils and creative eye. Her work is beautiful and she tells us she will be developing her illustrations further in her studio this winter. You can learn more about her and read the story of her Sperry adventure here:
https://mazastudio.blogspot.com/
Happy Trails
September 10, 2016 - Saturday
End of summer
Someone give this summer a speeding ticket! It went by too fast. As we close down another amazing season I feel super grateful for all the incredible hiking, the adventures, the bears, the sunsets, the leisurely shuttle rides, and most of all the incredible people that visited us here at the chalets. It is a lesson I love learning again and again, you do meet the nicest people in the mountains. (High five to Pete, fist bump to Sue & Al, a hug to Elena, and a wave at Karen.)
We will be on light duty at the office for a while. Send an Email if you need anything. If you are looking forward to the 2017 season, the date to circle on your calendar is January 9th. Reservations will open then. We will put information about our operating dates and rates on the website through the fall as we learn it.
Happy trails!
August 26, 2016 - Friday
Happy Birthday NPS
Celebrating the National Park Service centennial at Sperry Chalet.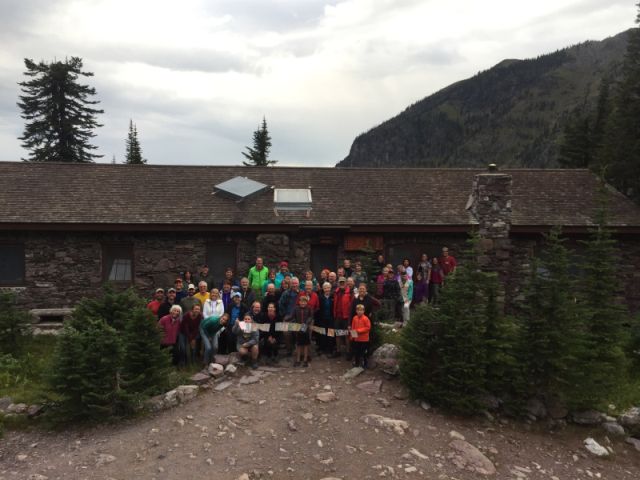 August 21, 2016 - Sunday
Office hours
Starting Monday, we will be by the phone from 9:00am to 4:00pm.
We are updating our office hours with the late summer season. If you need a trailhead shuttle, or a tweak to your reservation, you can reach us by phone from 9 to 4 every day. (Mountain Time Zone.)
Happy Hiking.
August 5, 2016 - Friday
Spectacular summer at Sperry Chalet
We have met a lot of great people this summer doing a lot of great hiking. Sperry Glacier has been a popular and eye catching destination. I am getting reports of chilly swims in Lake Ellen Wilson. And the homemade bread in the dining room is getting rave reviews.
Gunsight Pass is melting out and becoming safe to cross for average hikers. We are still getting reports of snow fields up at the pass, but it is possible to scramble around them if you don't trust your footing on snow. Conditions are improving day by day, the Gunsight Pass trail is now a good option if you are up for an all day, challenging and ambitious hike in or out of Sperry Chalet. Be sure to carry lots of water, extra food, and check with our office if our shuttle can help you travel between West Glacier and the trailhead.
The weather has been pretty warm this summer, so be sure to carry plenty of water and stay hydrated. The forecast does have a chance of showers in it, and good mountaineers should always be ready for a variety of conditions. Don't leave the rain gear or warm layers out of your pack. Even in good summer conditions a warm layer will come in handy up on a windy glacier, or in the chilly morning air when you head down to the kitchen for coffee.
We can't wait to see you up at Sperry Chalet.
Have a great hike.
July 10, 2016 - Sunday
Sperry Chalet is open
Welcome to another fun season of hiking around Sperry Chalet. We are excited for your visit, the goats are curious, the mountains are as gorgeous as ever, and our baker can't wait to show off some new bread recipes.
The Sperry Trail is clear of snow all the way to the chalet, no obstacles or hazards to report. The Sperry Glacier Trail still has plenty of snow in the higher elevations. Be ready with good boots and cautious hiking if you go in that direction. We are getting reports of snow crossings at Gunsight Pass. If you come or go by the longer Gunsight Pass trail, be ready for dangerous snow conditions with exposure (snow fields that slide off cliffs) to traverse. This trail is only suitable for experienced and strong hikers right now. Conditions may not improve there for a few weeks.
Need a ride from West Glacier to your trailhead? Ask us about our guest shuttle. Glacier is seeing a record number of visitors this year, we can help you with the new parking challenges at the trailheads.
Meet the Sperry Crew:


Sinead, Katie, Dan, Karen, Kali, Rachel, Teri, Stephany, Renee, and Mike are standing ready to make your visit comfortable.
Happy Hiking
June 27, 2016 - Monday
Summer office hours
We are now in the office from 9:00am to 6:00pm seven days a week. (Mountain Time Zone - Glacier Park time)
If you have trouble reaching us by phone, we are probably helping other customers, try again in a few minutes.
888-345-2649
June 6, 2016 - Monday
Lets talk about travel insurance.
Granite Park Chalet and Sperry Chalet are two of the most unique hotels in our national parks. The wild location and primitive conditions provide both the charms and challenges of staying with us. When you venture into the wilderness to visit the chalets you are exposing yourself to some unique hazards that you would never encounter on other vacations.
We want you to have a fun and safe hike, but Mother Nature could make you change your plans. Entering the wilderness is done at your own risk. The equipment you choose in your backpack can protect you from the wilderness, and travel insurance can protect you from financial loss.
The chalets can not change cancellation policies due to acts of nature. We recommend that you talk with your insurance agent about travel insurance. We believe that travel insurance can be just as important for a wilderness vacation as your backpacking gear.
Be safe out there.
April 19, 2016 - Tuesday
Trailhead shuttle
Glacier National Park is more popular than ever, and finding parking at the trailheads is more difficult than it has ever been. We want to help make your chalet visit easier with parking in West Glacier and a direct shuttle to your trailhead.
Get all the details on our shuttle here, and call our office to reserve your ride.
Happy Trails
February 3, 2016 - Wednesday
Thank you Lanny Luding,
Our long time friends and chalet visitors may know or have crossed paths with Lanny Luding at some point. We are pleased to announce his retirement.
Lanny started working for the chalets as a teenager in 1954 and has spent over 54 summer seasons caring for the chalets of Glacier National Park. After helping his parents operate the chalets in his youth, Lanny took time off to pursue an education and also spent time in the Army, serving in Vietnam. He returned to Glacier National Park and took over duties as the head of the concession in 1974. Over the years Lanny has done every job there is to do at the chalets, from washing dishes to bookkeeping. He has spent the last ten years offering guidance on our board of directors and assisting everyone here with his wit and wisdom. As of last week, he has officially retired from the board and all chalet duties. So far as we can tell, he intends to spend his new free time being a kid again.
It is impossible to measure the impact Lanny has had on the chalets, his work has helped countless Glacier National Park visitors experience the backcountry in rustic chalet comfort. He is largely responsible for all our management techniques and the best practices we employ to this day. We cannot begin to express how important Lanny has been to the success of Sperry and Granite Park Chalets. We are pleased that the future of the chalets will be built on the foundation he constructed.
Lanny, thank you for all you have done and your lifetime of service. We will miss you around here, but don't let that stop you from enjoying retirement. If you ever want to hike up for a visit I am sure we can find some dishes for you to wash.
Happy Trails
January 13, 2016 - Wednesday
Reservation status
Wow, we are once again impressed by how much enthusiasm everyone is showing for the chalets. We have heard from a lot of excited people this week and we have many more people yet to talk to.
If you are still waiting to hear back on your reservation request, thanks for being patient. We are continuing to work through the queue as diligently as we can. We are being careful to create the best reservations we can.
One thing we have learned this year is that Glacier National Park's popularity, with record setting visitation, is affecting the chalets too. We are seeing more demand for these tiny hotels than we have ever seen. If we are unable to honor your request, do please watch our website through the spring. We are expecting cancellations and changes to create some openings, they will be available first come first served.
Happy trails!
January 10, 2016 - Sunday
Accepting reservations
We are excited to get underway helping you enjoy the mountains and wilderness of Glacier National Park this summer! Here is some info that might help you with your reservation.
Use the reservation request form on this website. This is the fastest and easiest way to submit a request to us. If you phone a request to us, all we can do is fill in the form for you. Watch your Email for our reply.
If you need it, our office phone is: 888-345-2649. We can enter a request for you or answer questions, but we will not be able to create reservations by phone while we are backlogged. The phone line is expected to be very busy and you should expect busy signals and difficulty connecting.
How to improve your chances for success:
Common sense and statistics can help you some.
The more flexibility in travel dates, the more possibilities for reservations exist.
The fewer rooms you need, the more likely we will have them available.
The first week in August traditionally has the highest demand. (The week before and after are very popular too.) Other dates may have more opportunities.
Good Luck!
Look up old news:
2007 2008 2009 2010 2011 2012 2013 2014 2015 2016 2017 2018 2019 2020 2021 2022