December 21, 2012 - Friday
Merry Christmas
From the backcountry of Glacier National Park we want to wish you and your loved ones a Merry Christmas and a peaceful holiday season.
We are out of the office for the holidays. We hope you will also have time to spend with your families and kids.
We will be back in the office on Wednesday, January 2.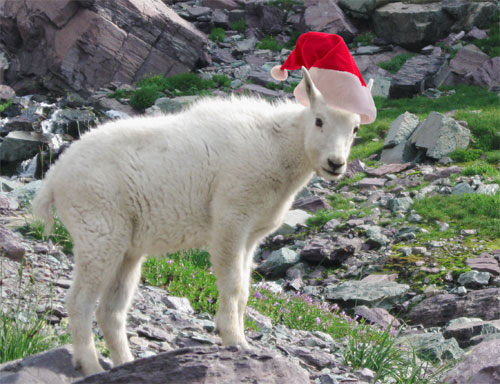 November 20, 2012 - Tuesday
2013 Fares are approved.
The rates posted here on our website are now accurate and approved by the National Park Service. For those of you with reservations, your fare has changed. A new billing statement will be sent out shortly.
If you have a reservation: The new deadline for submitting your deposit payment is the Christmas holiday. More specifically, 2:00 pm on December 21 is when we will close the office for the year. Please have your deposit to us by then. For those of you who have already sent us your payment information, you are all set and do not need to do anything more. You will be getting a receipt shortly.
Thanks for your patience as we finalized the rates for next year. We are looking forward to meeting you in the mountains.
October 31, 2012 - Wednesday
Thank you!
What an amazing week we are having. It is incredible to be reminded how many people are really passionate about the chalets.
We have already created hundreds of 2013 reservations and we still have hundreds more of your requests yet to handle. Thank you very much for your patience as we work to connect with you.
The phone line is still incredibly busy, but connecting that way will continue to get easier with time. Our Email inbox is overflowing right now. We are several days away from answering all our correspondence. Again, thanks for your patience as you try to connect with us.
PAYMENTS
You do not need to pay your deposit at this time. We are temporarily waiving the 14 day deposit deadline. With our 2013 fares not yet approved by the National Park Service, your bill is not final. We are anticipating the approval will come in the next few weeks and we will send you an updated statement at that time. You do not need to pay your deposit until you receive this bill.
The mountains may be dusted with snow right now, but we can't help but get excited thinking about all the great hiking coming up next summer.
Happy Trails
October 23, 2012 - Tuesday
We begin accepting 2013 reservations on Monday, October 29
We are looking forward to helping you with your chalet plans for next summer. Here are some tips to help you out.
The best ways to make chalet reservations will be through this website or by telephone.
1-888-345-2649
From past experience we know that there will be hundreds of people trying to contact us on Monday. Be prepared for busy signals on the phone line, and be patient with any online communication. We are working hard to connect with you. There are just a lot of you to serve.
We recommend using the online reservation request form. Online requests will wait in queue for us to review, so you can send it in and get on with your day. We handle all requests in the order submitted, and we will E-mail you back as soon as we can. We can also handle online requests more quickly than phoned requests, so we tend to make more reservations online than any other way.
Phoning for a reservation is suggested for people with large or complicated reservations. The phone does have the advantage of a friendly voice and instant feedback on your questions. The disadvantage is that our phone line gets overwhelmed with a large volume of calls. Be prepared for busy signals and to spend some time hitting the re-dial button. The phone will be staffed from 8:00 to 2:00, Monday through Friday. We will not be able to take messages or return your call.
Please do not call the Park Service or other area hotels. There is nothing they can do to help you with chalet reservations. If you are having trouble reaching us, it is because many other people are trying to contact us at the same time. Patience and persistence is the most successful strategy.
Talk to you soon.
October 6, 2012 - Saturday
Getting ready for 2013
Here is some information to help you plan for your 2013 visit to the chalets.
Operating dates:
Granite Park Chalet, Open June 29 through September 8, 2013
Sperry Chalet, Open July 11 through September 8, 2013
Both chalets will be closing after breakfast on September 9.
We will begin accepting reservations for the 2013 season on October 29. The office opens at 8:00am mountain time zone.
Thanks!
September 9, 2012 - Sunday
Closed for the season.
And what a great summer it has been! I met a lot of adventurers on the trail this year and everyone had a great hiking story about a new experience, an interesting sighting, or a beautiful day. Wow. Thanks for including us in your vacation, you helped make this an incredible summer.
Our offices will be closed for a while as we rest our feet and prepare for next year. Information about the 2013 season will be available here soon.
Happy Trails!
August 29, 2012 - Wednesday
Shuttle service
A reminder for everyone planning to visit Glacier National Park in September. The last day to use the free shuttle bus along Going to the Sun Road will be September 3. After the Labor Day holiday we suggest using your own vehicle to get to the trail heads, and try to get an early start to make parking easier. The best way back to your vehicle after staying at the chalet will be to hike out on the same trail you hiked in on.
More information about Going to the Sun Road and the shuttle system can be found here:
http://www.nps.gov/glac/planyourvisit/goingtothesunroad.htm
Happy Hiking!
August 23, 2012 - Thursday
New Office Hours
Office hours are now 9:00am to 3:00pm (mountain time zone) every day until the end of our season.
August is slipping past and the end of our summer season is just a few weeks away. While there is less paper for us to push around, there is still plenty of great hiking for you to enjoy. Day hikers, overnight guests, horseback riders; if your trail takes you past the chalets, we would love it if you stopped in to say hello.
Happy hiking!
August 8, 2012 - Wednesday
It's the height of summer at Sperry!
August is bringing us some beautiful conditions around Sperry Chalet. These warm days are a great excuse to go cool off with a visit to the high country. I recommend Sperry Glacier for a beautiful and cool destination and the Sperry dining room for cool lemonade.
I found myself on the Sperry Glacier trail the other day and I have to report perfect and beautiful conditions. There are still a couple of snow crossings just below Comeau Pass, and a few more in the moraines near Sperry Glacier, but these are easy to cross, no special equipment required.
The reports from Gunsight Pass are improving daily as well. I am told that there are still some snow crossings at the pass, but these are now well tread and no longer the hazards they were a short time ago. This is still a nasty spot to loose your footing, so be extra careful. Be prepared for the water crossings as well. There is a knee deep stream crossing at Gunsight Lake that is pretty cold, and there is an ankle deep and slippery waterfall at the head of Lake Ellen Wilson. Be safe out there!
August is a great month for watching the night sky. If you find yourself out after dark while up at Sperry, turn off your flashlight for a few minutes and take it all in. You will feel like you are closer to the stars than you have ever been before. There is a good chance of seeing meteors too.
Have a great hike!
July 25, 2012 - Wednesday
Sperry Chalet trail status
The grounds around the chalet are completely snow free now. You will appreciate having sandals or light shoes for the evening after a long day of hitting the trails.
The Sperry Glacier Trail is quickly melting out. The first mile and a half up from the chalet is currently snow free, with snow cover increasing to 90% as you climb to Comeau Pass. The snow crossings are not particularly treacherous, but do be careful and watch your step. Hiking poles can help when you are on the snow. Be prepared for cool and windy conditions up at Sperry Glacier as well.
On the Gunsight Pass Trail, there are a few adventurers starting to make the crossing. At Gunsight Pass itself, several dangerous high angle snow fields remain. Some people are crossing these using crampons and ice axes. Other people are reporting it is possible to rock scramble off trail either above or below the snow fields. This challenge may add an hour or more to your hike if you are planning to go this way. You should also be prepared to get wet, a hand cable ford is waiting for you at the foot of Gunsight Lake. The water crossing is described as about knee deep and very cold.
We have been enjoying some beautiful weather and great hiking up at Sperry Chalet. We hope you can join us soon.
Happy Hiking!
July 14, 2012 - Saturday
Sperry Chalet is open
The mountains are beautiful, the flowers are blooming, the chalet is cleaned up and ready for you. We are excited to be in the backcountry for another fun summer and we can't wait for you to join us.
For the next week or so, come prepared for some lingering patches of snow and wet ground conditions. The Sperry Glacier trail is currently about 75% snow covered and the first adventurers to try it have reported it to be challenging but passable. You will want to bring some trekking poles and extra traction for your shoes if you want to attempt Sperry Glacier soon. Lincoln Pass to Lake Ellen Wilson still has significant snow cover as well.
We would advise avoiding the Gunsight Pass Trail for the month of July. We do not yet have any good firsthand accounts of conditions at Gunsight Pass, but historically we know that when these snow conditions exist in the high country, there are some extremely dangerous snow crossings on the east side of the pass. If you want to attempt it, we recommend climbing gear, ice axes, well practiced self arrest skills, and experienced hiking buddies. Be safe out there.
When you come up, be sure to say hi to Bill. He is the employee that supervised the railing installation this year. He did a good job too.

And meet the rest of the Sperry Crew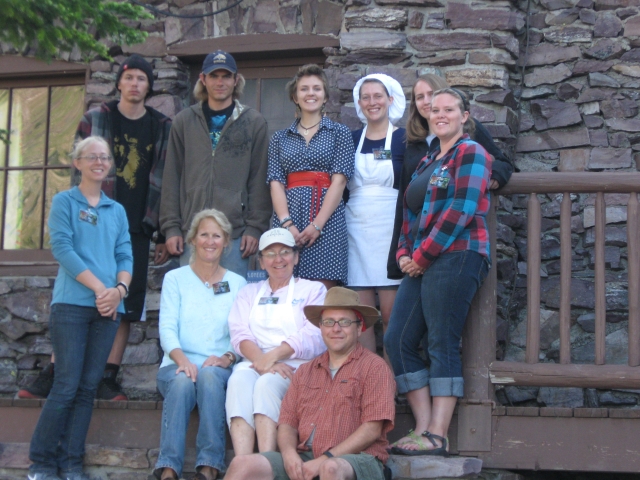 Ellen, Ken, Sam, Kirsty, Annie, Dawn, Blair, Dulcy, Teri and Kevin are all excited to meet you up at Sperry Chalet.
The mountains are calling...
July 1, 2012 - Sunday
Summer Office Hours
Starting today, July 1. We will be in the office full time on our summer office schedule. You can reach us from 9:00am to 6:00pm every day until the chalets close in September.
Thanks
June 29, 2012 - Friday
New opening date, July 12.
Good news from Sperry Chalet! We will now be opening a week earlier than previously planned. The new July 12 opening date has created many more opportunities to visit the Glacier Park backcountry this summer. Sorry about the short notice, but if you can make it we would love for you to stay with us.
We are predicting that there will be lingering snow at chalet elevations well into July. So if you can join us between the 12th and the 18th, be sure to come prepared for snowy conditions with your waterproof boots, extra socks and your trekking poles. The Sperry Glacier trail is also certain to have lots of snow cover as well as Gunsight Pass. If you are not an expert mountaineer with the appropriate equipment and skills for high exposure snow crossing, you should probably avoid the Gunsight Pass trail until August.
And a special thank you goes out to the hardworking staff of Glacier National Park! The carpentry shop, the plumbing shop, and all their laborers and workers plus the administrators and organizers have done a fabulous job of keeping Sperry Chalet in tip top condition. Thanks to their help, the beautiful old Sperry Chalet will be able to stand up to old man winter and continue serving hikers for many years to come.
We will see you in the mountains soon!
June 20, 2012 - Wednesday
Going to the Sun Road is open
The entire length of Going to the Sun Road is now open to vehicle traffic. Opening yesterday, Tuesday June 19.
If you want to drive up to Logan Pass now, be ready for road construction delays on the west side and winter conditions in the high country. There is still lots of snow in the mountains, most high country trails remain snowbound or closed.
Here at the chalets we are starting to get excited about going into the mountains again soon. We can't wait to see you in the backcountry.
Happy hiking!
May 30, 2012 - Wednesday
Gunsight Pass Trail
The National Park Service has provided us some information on their trail maintenance plans for the Gunsight Pass trail this upcoming 2012 season. In the 2011 season the Gunsight Pass Trail took some damage that made it a difficult route. Avalanche debris covered part of the trail below Gunsight Lake, and the foot bridge at the lake was destroyed.
The foot bridge at Gunsight Lake will not be replaced this year. Instead a hand cable will be installed to aid hikers in fording the stream. If you are planning to use the Gunsight Pass trail this year, you will get wet. Plan accordingly. Be prepared to ford a stream approximately 20 feet across, about knee deep, and always cold. Be very cautions, especially if there is adverse weather or high runoff.
Trail crews will also be creating a route either through or around the avalanche damaged portion of the trail, so hikers will be able to pass this obstacle without needing route finding skills or scrambling ability.
Work on the avalanche re-route and the hand cable ford will not begin until July 24 at the earliest. Hikers planning on this route earlier in July must have route finding skills to navigate the avalanche damage and be prepared to ford the stream unaided.
Gunsight Pass is always very dangerous in early July. The trail traverses several high angle snow fields with dangerous exposure (snow fields that run off cliffs making a simple slip and fall very perilous.) Snow melt and trail conditions always vary year by year, but we would advise anyone taking the Gunsight Pass trail before mid July to have ice axes, self arrest skills and experienced hiking partners. We are not likely to have first hand information about the conditions at Gunsight Pass until after the first week in July.
There is also a water crossing at the head of Lake Ellen Wilson. This is a fast running stream across slippery rocks you should be prepared for. Trekking poles can help with balance at this crossing.
You can always get current trail status information from the National Park Service website or from any visitor center in the park.
Be safe out there, and happy hiking!
April 10, 2012 - Tuesday
Going-to-the-Sun Road
The National Park Service has started the annual spring ritual of plowing Sun Road. Clearing this road is an impressive feat, and we always get a kick out of the photos the park puts online:
http://www.flickr.com/photos/glaciernps
Snow in the high country is being reported as above average, but less than last year. It is still impossible to predict what conditions will be like in June or early July. Mother Nature still has a couple months of surprises for us.
Happy Spring!
March 27, 2012 - Tuesday
Office closed
We will be out of the office again for the next couple weeks. Sorry for the inconvenience. If you have business with your reservation, please send us an E-mail and we will get back to you as soon as we can. We will be back in the office again after the Easter holiday on Tuesday, April 10.
Thank you.
February 20, 2012 - Monday
Chalet Trivia
2012 marks the 25th anniversary of the National Historic Landmark designation for Sperry Chalet and Granite Park Chalet. These buildings received landmark designations in 1987 as part of the Great Northern Railway Buildings which also includes The Belton Chalet, Many Glacier Hotel, and the Two Medicine Store. You can find the details of our landmark designation here.
Happy Trails
February 13, 2012 - Monday
Out of the office
We will be out of the office for most of this week due to conferences and meetings. If you have any business with your reservation, please send us an Email and we will get back to you as soon as we can. We will be back in the office on Monday, February 20.
Look up old news:
2007 2008 2009 2010 2011 2012 2013 2014 2015 2016 2017 2018 2019 2020 2021 2022