December 21, 2011 - Wednesday
Merry Christmas!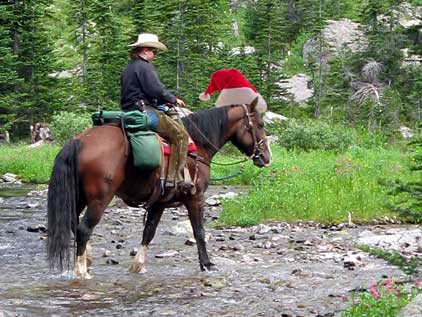 There are no reindeer in Glacier Park, the bighorn sheep union has repeatedly turned down Santa's requests for sleigh pulling, and I have it on good authority that Mrs. Clause has forbidden him from trying to harness a mountain goat. While I have never seen him do it, I am pretty sure that Santa uses horsepower to bring gifts to the good hikers. From the mountains of Montana, we wish you a Merry Christmas!
We are taking a little time off to enjoy our families, we hope you get to do the same. No one will be answering the office phone until January 2. See you in the new year.
November 23, 2011 - Wednesday
Happy Thanksgiving
We will be out of the office over the holiday, and we hope that you get an opportunity to relax with your loved ones as well. We will be back in the office again on Monday, November 28.
November 1, 2011 - Tuesday
2012 rates
The National Park Service has approved our rates for the 2012 season. The fares listed here on our website are correct and now official. If you have already received a 2012 reservation confirmation, the rates listed are correct. You may now pay your bill with confidence that these fares will not change.
Happy Hiking!
October 27, 2011 - Thursday
Your 2012 reservation
Thanks to everyone for your excitement and enthusiasm toward the chalets. It has been an exciting week helping everyone with your 2012 visits.
If you did not get the reservation you wanted, please watch the availability calendar over the winter for any changes and openings.
For those of you needing to make a deposit payment, the phone lines ought to be easier to connect through in the upcoming weeks. You can also mail your payment using the form on the bottom of your posted confirmation. We are going to be backlogged handling your payments over the next couple weeks, so we will temporarily waive the 14 day payment deadline until we get caught up.
Thanks and happy trails!
October 20, 2011 - Thursday
Making 2012 reservations.
We will begin accepting reservations for the 2012 season on Monday, October 24, 8:00 a.m. Mountain time zone. Here are some tips to help you out.
The two best ways to make a reservation are by phone or online through our web site. We will be staffed to handle both simultaneously, so use the method that best meets your needs.
RESERVING ONLINE
A reservation request form will be available through the reservations page of our website beginning on October 24.
We can review and approve these online requests faster than any other type of reservation request, therefore we are likely to create more reservations from online requests than by phone. Online reservations have the advantage of waiting in queue for us to review them, so you don't have to spend hours of your time on the phone re-dialing. All online requests are handled in the order they are submitted. The disadvantage is that it may take some time, possibly a day or more, before you learn the status of your reservation.
RESERVING BY PHONE
1-888-345-2649
Reserving by phone has the advantage of a live person helping you and instant feedback on your reservation. If you are making a large, or complicated reservation, the phone will be the best choice for you. We will be answering the phone during office hours, 8:00am to 2:00pm, Monday through Friday, in the Mountain Time Zone.
The phone line is usually very congested when we start taking reservations. With hundreds of people calling simultaneously, you are likely to encounter busy signals and difficulty connecting. Patience and persistence will be your best tools for reaching us by phone. Please do not call the National Park Service or other local hotels. Our toll free phone number is the only phone number you can call to make a chalet reservation.
THANK YOU
We are thrilled that so many people are excited to join us in the mountains. We will be working hard until all reservation requests are personally handled.
We will be updating our online availability calendar regularly, however, when we experience this large volume of reservation requests the calendar cannot keep up and the displayed vacancies may not be accurate.
Returning customers, please be advised that our cancellation policies are being updated for the 2012 season. Please check the new policies so that you do not accidentally incur unwanted fees.
We are excited to talk to you soon.
Happy Hiking!
October 3, 2011 - Monday
Looking forward to 2012
We have some new information about the 2012 season:
Sperry Chalet will be open from July 19 to September 9, 2012.
We will begin accepting reservations on Monday, October 24.
Happy Trails
August 25, 2011 - Thursday
Closed for the season.
Sperry Chalet is closed for the season. While our summer was short and sweet, it was rich with adventure and many friends both new and old. Thank you to everyone who made the hike and visited us.
We closed early this year to allow time to complete repairs from last winters extraordinary snow and avalanche. Another thank you goes to the National Park Service repair crews who are doing such a fine job of caring for Sperry Chalet. And also a special thank you goes out to everyone who wanted to visit us but were thwarted by our little natural disaster. Your patience and understanding were exemplary and very touching.
We are looking forward to a fresh start in 2012. If you are interested in reservations for next summer, please check back here in October. Complete details of our office schedule and summer operating season should be ready by then. We typically start taking reservations in the last week of October.
Happy Trails
August 5, 2011 - Friday
Trail status
The snow in the high country is steadily melting out. The Sperry Trail still has patches of snow along the last half mile to the chalet. It is likely that some of this snow will linger for our entire operating season. It is easy to cross with just hiking boots.
The grounds around Sperry Chalet still has patches of snow nearby, but all the paths and walkways are clear. It is now possible to go from building to building in light shoes or sandals without getting your feet wet.
Sperry Glacier Trail
The trail from Sperry Chalet to Sperry Glacier is still over 50% snow covered. Many hikers of average ability are enjoying this trek. In addition to your boots, trekking poles will help you with balance, and don't forget to put on plenty of sunscreen.
Lake Ellen Wilson
The trail over Lincoln Pass also has patchy snow, but is easily passable. The Lake Ellen Wilson overlook is proving to be an excellent lunch spot this year.
Gunsight Pass
Gunsight Pass remains impassable, and will probably remain so all season. This route should only be attempted by expert mountaineers with appropriate experience, equipment and partners.
Happy Hiking!
July 21, 2011 - Thursday
Sperry Chalet is open!
We have dealt with a lot of snow and a lot of repair work this spring, but we are finally open and ready to serve you. We can't wait to serve you a home cooked dinner if you are spending the night, or a delicious slice of pie if you are visiting for the day.
There is still snow around Sperry Chalet and higher elevations. You will need sturdy, waterproof footwear with good traction. Hiking poles will help, and so will a change of socks. Other important gear for staying comfortable includes sunscreen, sunglasses, and insect repellant. The mosquitoes are extra friendly right now, so be ready for them.
The hikes out of Sperry Chalet are still snow covered. The Sperry Glacier Trail is 90% snow covered and challenging. While the snow makes for a difficult trek, several average ability hikers have already covered the route and report that while the snow fields can be difficult to traverse, there are no significant hazards. Be prepared for slippery conditions, have appropriate footwear and snow hiking equipment, stay alert, and have some fun. For an easier hike you may want to try Lake Ellen Wilson. The trail from Sperry to Lincoln Pass is 100% snow covered, but the far side of the pass has patchy snow and easier walking.
A SPECIAL THANK YOU TO THE NATIONAL PARK SERVICE!
The repair crews that have been spending the past weeks fixing up Sperry have done an outstanding job! Kudos to all the good people in Glacier Park's carpenter shop, plumbing shop, concessions office and headquarters. They took on an incredible challenge and made it look easy. I am glad to know that Glacier National Park is in such capable hands.
MEET THE SPERRY CREW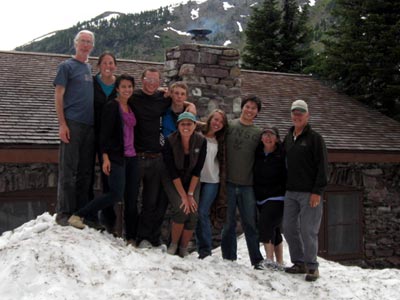 Dave, Renee, Sydney, Quinn, Ken, Selma, Sinead, Ryan, Teri, and Albert are looking forward to meeting you.
See you on the Sperry Trail!
July 18, 2011 - Monday
Gunsight Pass Trail
The Gunsight Pass trail in and out of Sperry Chalet will not be passable this summer. Please do not attempt to reach Sperry Chalet on this route.
Between Florence Falls and Gunsight Lake there is avalanche debris covering the trail, route finding skills are recommended to traverse this hazard.
At Gunsight Lake, the suspension bridge is damaged and out of service. To go past this point requires fording a stream that is approximately waist deep, 30 feet across, and very cold.
At Gunsight Pass, there will be high angle snow fields with dangerous exposure (steep slopes that run off cliffs). Traversing this will require expert mountaineering skills, ice axes and self arrest skills. These snow fields will probably linger well into August.
If you have the mountaineering skills to tackle these three challenges, send us photos of your adventure so we can be suitably impressed. For people like me with average hiking skills, your best and safest choice will be to avoid the Gunsight Pass Trail this year.
July 12, 2011 - Tuesday
Good news from Sperry Chalet.
Repairs to the hotel building appear to be on progress for our currently scheduled July 20 opening. We are excited to start seeing some happy hikers soon!
As we clean up the Sperry Chalet we are realising that we may be able to open up a few more rooms with vacancies in late July and early August. If you had your reservation canceled due to our unfortunate circumstances, please get in touch with our reservation office. We will be creating a 2011 wait list for guests that were displaced by our avalanche and repair closures. For others interested in staying with us this summer please watch our website and the availability calendar, any vacancies will be displayed there.
July 10, 2011 - Sunday
You can help preserve Glacier National Park's historic structures.
The National Park Service had many structures damaged by the heavy snow loads this winter and spring and consequently have many projects going to address these emergency situations as well as for other historic preservation needs. Damage occurred on Scalplock and Brown lookouts as well as Granite Park and Sperry Chalets to name a few. The Glacier National Park Fund has created a donation account to assist the National Park Service with these and other historic preservation projects. If you are interested in contributing, please contact the Glacier National Park Fund at (406) 892-3250 or their website at http://www.glacierfund.org.
Thank you.
July 8, 2011 - Friday
Sperry Chalet operating dates for 2011
We now have the operating dates for Sperry Chalet's shortened season. We will be open for overnight guests from July 20 through August 23, closing after breakfast on August 24.
Guests holding reservations earlier or later than these dates will be contacted directly and refunded in full. We are sorry for the disruption to your travel plans.
This is proving to be a remarkable year here in Glacier National Park, and not just because of the chalet damage we are working on. The extra snow in the high country is filling the waterfalls, enhancing the landscape and making the mountains as beautiful as I have ever seen them in July. If you can't stay with us at Sperry Chalet there will still be great opportunities for you to visit other interesting areas in the Park. It will not take much effort at all for you to find a beautiful new trail to enjoy.
Happy hiking,
July 2, 2011 - Saturday
Office Hours
We are now on our summer office schedule. You may call us from 9:00am to 6:00pm every day for the rest of the summer.
Looking forward to seeing you soon!
June 30, 2011 - Thursday
Sperry Chalet repairs
I am sorry to announce to you that there is even more bad news coming from Sperry Chalet this year. With the known avalanche damage and repair work as the impetus to give Sperry Chalet a closer inspection, we have learned that there was more wintertime damage to the chalet buildings than we expected or were able to casually observe. The roofs and rafters of both the kitchen and dormitory buildings were damaged by this past winter's extraordinary snow load and both buildings are in need of repair.
This will impact Sperry Chalet's operating season significantly. Repair crews will need complete access to the chalet for much of July, as well as later in the summer from the end of August through September. The season in which we can operate this year will be very limited. We are working closely with the National Park Service to determine the schedule we will be in service this summer. For now we will need to cancel all reservations up through July 19. In the fall, we must cancel all reservations in September and probably some from the last week of August. A follow up announcement will be made as soon as the exact dates are determined.
We are deeply disappointed with the disruption to our guest's travel plans. We will be communicating with all affected reservation holders directly and all canceled reservations will be fully refunded.
As sad as a shortened Sperry summer is, these repairs are essential for keeping Sperry Chalet in service long into the future. The repair work will insure a solid roof over our heads for many years to come. The Sperry Chalet kitchen building was constructed in 1913 and the dormitory building was completed in 1914. Their age and durability are a great testament to the stone masons who built them so long ago, as well as to the Park Service and chalet employees who have cared for them, and to all the Glacier Park visitors who have loved them.
Thank you.
June 27, 2011 - Monday
Office hours
Due to the delayed openings at both chalets, we are continuing our off season office schedule as a cost cutting measure. We apologize for any inconvenience, and we appreciate your understanding that this is one of the ways we try to hold the cost of a chalet reservation down. We will change to our full time summer hours as soon as we are able to host guests at the chalets.
Currently our office hours are:
Monday through Friday, 8:00 am to 2:00 pm in the Mountain time zone.
After hours you may use our website for chalet information, availability, and reservation requests. If you have questions about an existing reservation, an Email that includes your reservation number will be the best way to reach us.
[email protected]
Thanks,
we are looking forward to getting on the trail with you soon.
June 8, 2011 - Wednesday
Sperry Chalet opening date is delayed.
Due to the above average snowpack in Glacier National Park this year, the National Park Service is advising us that the water and sewer utilities at Sperry Chalet will not be operational by our scheduled July 8 opening date. Therefore we cannot open to the public as planned.
Sperry Chalet's opening date is rescheduled for July 15.
We will be contacting all affected reservation holders directly.
May 24, 2011 - Tuesday
Avalanche at Sperry Chalet
Over this past winter Sperry Chalet has been hit by an avalanche, striking the southern end of the dormitory building. There is damage to exterior windows and doors and a few rooms on the interior are filled with snow. There is some damage to the interior walls and fixtures. We believe the building is still structurally sound. The kitchen building and restroom building are not affected.
We are working closely with the National Park Service to evaluate the extent of damage and the impact on our summer guests. Because of the extreme avalanche danger that currently exists in the high country, travel to Sperry Chalet is not advised. It may be several weeks before anyone can safely visit Sperry Chalet to begin repairs.
We are planning to open for business on July 8 as scheduled. However, we may be forced to open at reduced capacity. Until we can learn more about the condition of the dormitory building, Sperry Chalet will not accept any new reservations for the 2011 season. We will communicate with all reservation holders as soon as we have a better understanding of the condition of Sperry Chalet and how it may affect your summer vacation plans. We are pleased and encouraged by the response from the National Park Service and the careful attention they are giving to this incident. We will be working hard to keep Sperry Chalet as available as possible for our guests and Glacier National Park visitors this upcoming summer.
Sperry Chalets ability to survive the harsh winter conditions in the mountains of Glacier National Park is an impressive testament to its rugged construction. Sperry Chalet was built in 1914 and is listed on the National Register of Historic Places. There is a record of a previous avalanche strike in 1957.
May 4, 2011 - Wednesday
Administrative fees
A friendly reminder that administrative fees start applying on June 1. The month of May is your last opportunity to change or cancel your reservation without penalty. Beginning June 1, $10 will be charged for any cancellations or changes to your reservation.
April 25, 2011 - Monday
Sperry in winter
Not many people get a chance to visit Sperry Chalet in the winter months. Here is glimpse of what Sperry Chalet looked like on April 14.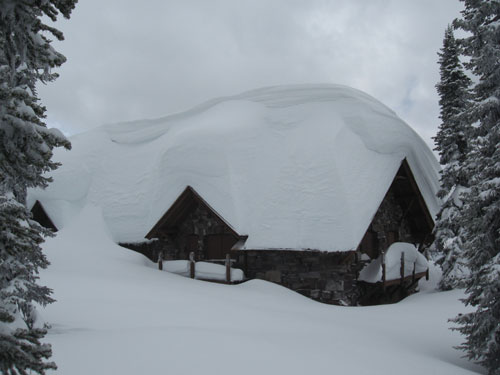 Thanks to Renee for sending us the photo.
January 17, 2011 - Monday
Attention Artists
Sperry Chalet is seeking a resident artist for the 2011 season. If you are a professional artist, or if you know a professional artist, please look at our resident artist program and see if you can contribute. This year the residency dates are from August 7 to August 20. Applications are due by May 15.
Happy Trails
Look up old news:
2007 2008 2009 2010 2011 2012 2013 2014 2015 2016 2017 2018 2019 2020 2021 2022 2023