August 15, 2017 - Tuesday
Sperry Chalet is closed for the season
We regret to inform you that the Sperry Chalet season is over. The National Park Service and teams of wildland fire fighters are putting in a great effort at fighting the Sprague fire which is threatening the Sperry Trail, but the fire is winning this battle. It is currently estimated at 100 acres and is expected to grow further. The buildings at Sperry Chalet are not currently in any danger, but we are cut off from reaching the chalet.
We are beginning the process of canceling all reservations for the remainder of the season. We will be contacting reservation holders directly. The guests we are unable to serve will be receiving full refunds. If you have any questions about your reservation please call our office.
We are grateful for the support we have received from the National Park Service. We have also received help and encouragement from a great many people including fellow park concessions, neighboring private businesses, concerned citizens, and the amazing guests of Sperry Chalet. I feel honored to be part of this supportive Glacier Park community.
And of course we applaud the efforts of all firefighters working in Montana this year. This summer has been a good reminder for us about the importance of respecting Mother Nature's incredible powers.
Best Wishes
August 13, 2017 - Sunday
Status update, August 13
Sperry Chalet remains closed. The Sprague Fire threatening the Sperry Trail remains active and has grown to over 20 acres. The chalet buildings are not in harms way but our access to the chalet remains cut off.
We are contacting all affected reservation holders directly. Feel free to call our office if you would like to discuss the details of your reservation. We are very appreciative of the understanding and support we are receiving from all the guests and chalet aficionados that we are hearing from. Thank you for your patience as we work through these uncertain days.
Happy Trails
August 12, 2017 - Saturday
August 12 fire update
Sperry Chalet remains closed. We do not expect this status to change within the next few days. We are continuing to contact affected reservation holders directly.
On Friday we successfully evacuated all guests from Sperry Chalet, most of them departing via the Gunsight Pass Trail. And I gotta say, I am really impressed with the wherewithal of Sperry Chalet guests. Can I just brag a little about the incredible effort this group made, crossing two mountain passes and the continental divide on a long and strenuous evacuation route. Well done!
We are also super proud of the firefighting crews that are working so very hard at protecting our park. They were very aggressive in attacking the fire yesterday and have a good opportunity to do the same today.
We are currently optimistic that Sperry Chalet may have an opportunity to re-open this summer. For now we have to wait and see what this fire does. As with all endeavors in the wilderness, Mother Nature is making the rules up as she goes along.
We are looking to the National Park Service for all our updates on fire status and current conditions. A good place to look for current information and recent press releases is this page:
https://www.nps.gov/glac/learn/nature/fire-information.htm
Be safe out there.
August 11, 2017 - Friday
Sperry Chalet is closed
A lightning caused fire has erupted near the Sperry Trail and all access to Sperry Chalet is cut off indefinitely. The Sperry Chalet structures are not in harms way, but travel to the chalet is not possible at this time. We do not know how long this state of affairs will last, or if it will be possible to re-open this summer. We are contacting all impacted reservation holders directly.
We do not have complete information about this incident. We know that the National Park Service is responding to this fire. The first priority is life safety and evacuating hazardous areas of the backcountry. We will do our best to communicate with our guests and the public as more information comes available.
This hot and dry summer has caught up with us and we should not expect mother nature to play nice.
Be safe out there.
July 27, 2017 - Thursday
Fire Restrictions
It has been hot and dry in Montana this summer and here in Glacier National Park, stage II fire restrictions have been put in place. What this means for park visitors is no fires. Campfires are not allowed and smoking is only allowed in a barren area. Propane stoves are okay, but charcoal or bbq briquets are not.
While visiting the chalets these restrictions are easy enough to follow. Keep the cooking in the kitchen, and don't mess around with any sort of flame outside.
Be super careful while visiting Glacier during these hot and dry days. Be sure to drink plenty of water and carry extra water while hiking. Start your hikes as early in the morning as you can while it is still cool.
Be safe out there.
July 9, 2017 - Sunday
Sperry Chalet is open!
We are thrilled to start another great season of hiking around Sperry Chalet. We are stirring the lemonade, baking bread, and getting grilled cheese sandwiches ready for your visit. The Sperry Trail from Lake McDonald Lodge is clear of snow all the way to the chalet. But hikes farther and higher may run into snow hazards.
The Sperry Glacier Trail is still about 80% snow covered and a challenge. The bridges over the water crossings are being planned for installation later this week. Extra shoe traction and trekking poles are a smart choice if you want to attempt Sperry Glacier soon.
Lake Ellen Wilson has about 20% snow cover on that trail. With this heat it ought to be completely clear in a week or so.
Gunsight Pass is a poor choice right now. The dangerous snow crossings on the east side are as perilous as it gets. We recommend avoiding Gunsight Pass for a few weeks until it melts out more. Risking a slip on the snow and a slide off a cliff is not worth it.
We are thrilled with our evening hosting the Glacier National Park Volunteer Associates. This fantastic group of people puts thousands of hours of volunteer labor into improving our park. It was a great honor to have them join us this year.
And meet the crew and volunteers that are making Sperry Chalet comfortable for you: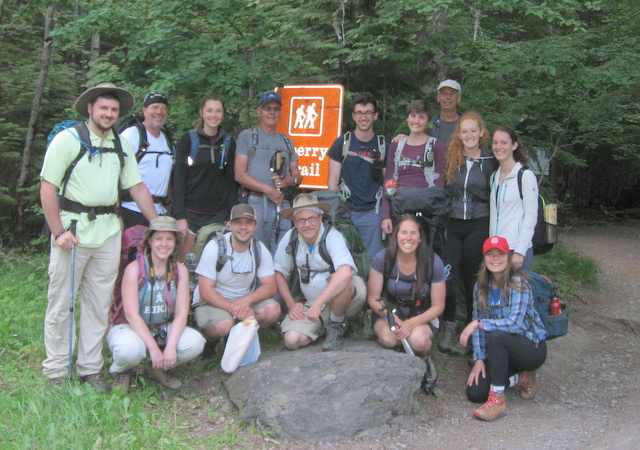 Alex, Mike, Abby, Albert, Jack, Nicole, Pete, Erica, Abbey
Geneva, Josh, Kevin, Renee, Kali
Happy Hiking!
June 15, 2017 - Thursday
Have a Sperry adventure while supporting Glacier National Park.
We have a special opportunity for you to support Glacier National Park with a stay at Sperry Chalet.
On July 8 Sperry Chalet is hosting a special fundraiser in support of the Glacier National Park Volunteer Associates. I have been informed that we have a few rooms open that are available to anyone.
For this fundraiser we are asking a $250 per person donation to the Volunteer Associates and you can join us for one night at Sperry Chalet on July 8. It is early season in the high country and we are planning a small, intimate group. It will make you feel like you have all of Glacier to yourself. This is a rare opportunity to be among the few first explorers to the Sperry high country for the 2017 season; as well as the first to receive chalet hospitality. 100% of your payment is donated to the Glacier National Park Volunteer Associates making your Sperry Chalet stay tax deductible.
If you are interested, contact us at the chalet reservation office: 888-345-2649. Be sure to ask about our July 8 opening night fundraiser. We have limited space available and it is first come first served.
Learn more about the GNPVA here:
http://gnpva.org/
April 13, 2017 - Thursday
Transportation reservations are now available.
Will you need a ride to a chalet trailhead this summer? We can help.
You can read about our shuttle details here.
Fun fact: 2016 was a record setting year for the most Glacier Park visitors. Forecasts for visitors in 2017 are very similar. While it is great that so many people are enjoying our wonderful park, it can cause some problems too. Where to park your car is one of those problems.
For your hike to the chalet you should think about using a shuttle to get to the trailhead. We can provide transportation between West Glacier and all the chalet trailheads along Going to the Sun Road. With our shuttle you can:
Quit worrying about vehicles and parking and enjoy yourself more.
Have a scheduled and reserved ride directly to your destination.
Help reduce traffic, congestion, and air pollution.
Our shuttle is not your only option. The National Park Service is operating a shuttle along Going to the Sun Road.
And there are two private options for people on the east side of the park that need transportation.
Happy Trails
March 13, 2017 - Monday
Hello Artists
We are continuing to offer an artistic residency and would like to extend an invitation to a professional artist to spend some time with us at Sperry Chalet this summer. If you are an artist, or know an artist, that could benefit from from some time out in the wilderness isolated on the side of a mountain, you can find the residency details here.
Happy Hiking
Look up old news:
2007 2008 2009 2010 2011 2012 2013 2014 2015 2016 2017