Sperry Chalet
National Historic Landmark Hotel, Reached Only by Trail

Rustic yet refined.
Dining and lodging in the wilderness backcountry of Glacier National Park.
2021 Summer Season:
July 11 through September 12
2021 Overnight rate:
$241 First person, $160 each additional person in the same room.
Plus Montana accomodations tax.

American Plan Only (includes meals) and reservations are required.
What's New:
July 28, 2021 - Wednesday
Updated CDC Guidance on Mask Wearing
Wearing a face mask is now required in Glacier National Park federal buildings regardless of vaccination status. This is effective immediately and applies to all structures at Sperry Chalet and Granite Park Chalet.
This change is due to new guidance from the CDC and is applicable to Glacier National Park because of Flathead County's "High" (Red) category of community transmission. based on the current CDC COVID Data Tracker.
Guests of the chalets are asked to bring face masks when you visit. We continue to restrict access to chalet buildings to overnight guests only, we are also limiting dining room occupancy at both chalets. Day hikers and visitors may enjoy chalet services outdoors.
Thank you for your assistance as we continue to address the ongoing pandemic.
Be safe out there.
July 12, 2021 - Monday
Sperry Chalet is open for 2021
I hope you are as excited as we are for an excellent hiking season!
We still have some Covid-19 restrictions in place. Again this year we will only be allowing reserved guests into the buildings, and like all other buildings in the park face masks are required if you are not Covid vaccinated. To avoid indoor crowding we will be serving dinner in two seatings and the fireplace will be cold.
Expect hot and dry conditions in the upcoming weeks. Extra water will be very important on your hike. Try to get an early start on the trail to beat the heat. Forest fire season is starting early too, we are already starting to see hazy conditions in Glacier Park coming from the fires in the northwest.
Gunsight Pass still has some hazardous snow crossings. They are melting quickly but if you don't have complete confidence in your footing and ability to handle yourself on snow the safe choice is to wait a week or two before attempting this route. The waterfall crossing at the head of Lake Ellen Wilson is running strong too. Be ready with fresh socks 'cause your feet are gonna get wet.
Now go have fun and be safe out there!
SPERRY CHALET INFORMATION:
Sperry Chalet was built in 1913 by James J. and son Louis Hill of the Great Northern Railway, the prime developer of Glacier National Park. Opened in 1914 the main buildings consist of a two story dormitory building and a kitchen/dining room building. A maintenance building and a restroom building are located between the dorm and dining room.
In August of 2017 the Sperry Chalet dormitory was consumed by a wildfire. The National Park Service immediately stabilized the remaining stone walls and an ambitious reconstruction project took place over the next two years. Sperry Chalet returned to full service in 2020. Sperry Chalet continues to provide hearty food and comfortable lodging in the same rustic style as the earliest visitors enjoyed.
What to Expect
Be prepared for a strenuous hiking or horsback trip to reach the chalets.
Expect an experience similar to camping, only without the hassles of pitching tents, organizing campsites, sleeping on the ground, or preparing meals. Let the beautiful stone buildings shelter you from the elements while our staff does the cooking.
The facility is primitive and rustic. The private guest rooms are without lights, heat or water. Flashlights are used at night as no candles or fueled lights are allowed. The dining room has a wood stove and propane lights for your comfort.
Three meals with each night's stay.
Plenty of warm blankets on your bed.
Easy access to backcountry hiking and wilderness adventures.
Pack-it-in, Pack-it-out garbage policy. Whatever you carry in, you're expected to carry back out with you.
Meals and dining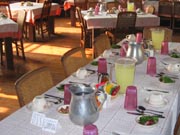 Meals are informal, served table d'hote.
Dinner is served from 6 to 7 p.m.
Breakfast served from 7 to 8:30 a.m.
A sack lunch is provided to enjoy while hiking.
A la carte lunch service available from 11:30 to 5:00 every day.
No alcoholic beverages are allowed in the dining room.
A la carte lunch service is available to everyone from 11:30 a.m. to 5 p.m.. Campers, day hikers, and horseback riders are all welcome in the dining room. Breakfast and dinner are also available to backcountry travelers with advance reservations.
Guest rooms
All reservations get a private room. No dormitory style housing is available.
The guest rooms are comfortable, but not modern. No electricity, heat or running water.
Linens, blankets, pillows and hand towels are provided.
Flashlights are recommended for night use. No candles, fueled lights or flames of any kind are allowed indoors.
The restroom facility is outside, with sinks for washing up (no showers or hot water).
Check-in time is whenever you arrive (hopefully by 6 p.m. for dinner), check-out time is 10 a.m.
Sleeping bag accommodations are not available at Sperry Chalet. A National Park Service campground is available in the Sperry area for those who wish to backpack and camp out. For information on backcountry camping permits in Glacier, see Glacier National Park's Backcountry Camping Guide.
What To Bring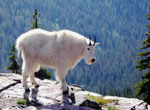 Mountain goats are resident natives of the Sperry/Gunsight area and are almost daily visitors. They are a delight to the photographer as they seem to pose for their picture. But be advised, you are visiting them, they are not visiting you. They are not always 'happy to see you'. Be careful. Do not approach wildlife.
While a toothbrush and a smile are all you'll probably need for an overnight stay, you should still come prepared for the wilderness. Sore, blistered feet and cold wet bodies are the most common fun killers that can be encountered. Be sure to have comfortable, appropriate footwear and good socks, rain gear, and some warm dry clothes with you.
Suggested items for your backpack:
Full water bottle (Bring two on hot days)
Insect repellent
Sunscreen
First aid supplies (Especially for blisters)
Food and snacks
Flashlight or headlamp
Warm clothing for wind & cold, rainy weather
Comfortable hiking shoes with extra socks
Weather
The weather in Glacier is temperate and unpredictable. Temperatures in July and August vary from 29 to 80 degrees F at chalet elevations (6500 feet). The evenings are usually cool and the buildings are not heated, so you'll need something warm for evenings and mornings. Always bring your rain gear in the event of sudden thunderstorms and rain squalls.
We are not responsible for the weather or weather related conditions.