Sperry Chalet
National Historic Landmark Hotel, Reached Only by Trail

Rustic yet refined.
Dining and lodging in the wilderness backcountry of Glacier National Park.
2021 Summer Season:
July 11 through September 12
2021 Overnight rate:
$241 First person, $160 each additional person in the same room.
Plus Montana accomodations tax.

American Plan Only (includes meals) and reservations are required.
What's New:
January 13, 2021 - Wednesday
The bittersweet saga of chalet reservations
Once again our hearts are warmed by all the love and enthusiasm shown toward Sperry and Granite Park Chalets, and once again our hearts break for all the good people we will be unable to serve.
We are still working through the thousands of reservation requests sent in Monday morning, it may take into next week before everyone hears back from us. We send an Email back to every request we handle, but we know that the Internet eats some of them. Especially the large volume of nearly identical declining Emails. Some internet providers find those Emails suspicious and do not deliver them. Successful reservations will also receive a statement by post.
If we do not have good luck with your reservation request please check back periodically through the winter and spring. Openings from cancellations may create new opportunities.
Thank you
December 15, 2020 - Tuesday
Planning for 2021 reservations
Making your 2021 reservation has been on our minds lately. Here are some thing to know and expect as you plan your chalet adventure.
You can note that our fares for the 2021 season are now approved and on our website for you to review. 2021 Chalet reservations become available on January 11, 2021. 8:00am, Mountain time zone.
We appreciate your understanding that the chalets of Glacier are very small hotels with a large demand. In requesting a reservation you are joining the ranks of hundreds of other parties submitting requests all at the same time. The demand for lodging will be greater than the number of rooms we have. We wish we could host everyone but the unfortunate reality is that many January 11 requests will be declined.
• The form on the website will be the best, fastest, easiest, simplest way to request a reservation.
If you attempt to create your reservation by phone or Email we will do our best to help you, but be advised that it will delay your entry into our request queue. We really, really, really want you to use the website. It is faster, easier, and improves your chances of an awarded reservation.
• Please be patient.
At the stroke of the clock when our reservations come available the sudden demand on our web-server tends to slows things down a bit. There is nothing nefarious going on, be patient, all website visitors are experiencing the same slowdown. Things will be running smoothly in just a couple minutes. Trying to connect with multiple devices only increases the demand on the web-server and does not do as much to help your connection as you might think.
In 2021 we are rearranging our offices so that our employees can work from home. This is new to us so we are not sure how well it will work. Our worry is that it may slow down how we manage the volume of requests. Thanks for being patient if your reply Email feels delayed.
• Be flexible.

Your reservation request should include a first and second choice of dates for your stay. We like to suggest giving us a range of dates for your time in Glacier, as wide a range as possible. That will give us the most opportunities to match your party with any potential openings.
Make note of the passcode you are given as your request submits. This will allow you to log in and edit your request while it is in queue waiting for our review. Useful for corrections, fixing mistakes, and hopefully reduces the pressure from any change of mind.
We are looking forward to serving you.
SPERRY CHALET INFORMATION:
Sperry Chalet was built in 1913 by James J. and son Louis Hill of the Great Northern Railway, the prime developer of Glacier National Park. Opened in 1914 the main buildings consist of a two story dormitory building and a kitchen/dining room building. A maintenance building and a restroom building are located between the dorm and dining room.
In August of 2017 the Sperry Chalet dormitory was consumed by a wildfire. The National Park Service immediately stabilized the remaining stone walls and an ambitious reconstruction project took place over the next two years. Sperry Chalet returned to full service in 2020. Sperry Chalet continues to provide hearty food and comfortable lodging in the same rustic style as the earliest visitors enjoyed.
What to Expect
Be prepared for a strenuous hiking or horsback trip to reach the chalets.
Expect an experience similar to camping, only without the hassles of pitching tents, organizing campsites, sleeping on the ground, or preparing meals. Let the beautiful stone buildings shelter you from the elements while our staff does the cooking.
The facility is primitive and rustic. The private guest rooms are without lights, heat or water. Flashlights are used at night as no candles or fueled lights are allowed. The dining room has a wood stove and propane lights for your comfort.
Three meals with each night's stay.
Plenty of warm blankets on your bed.
Easy access to backcountry hiking and wilderness adventures.
Pack-it-in, Pack-it-out garbage policy. Whatever you carry in, you're expected to carry back out with you.
Meals and dining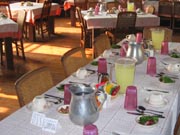 Meals are informal, served table d'hote.
Dinner is served from 6 to 7 p.m.
Breakfast served from 7 to 8:30 a.m.
A sack lunch is provided to enjoy while hiking.
A la carte lunch service available from 11:30 to 5:00 every day.
No alcoholic beverages are allowed in the dining room.
A la carte lunch service is available to everyone from 11:30 a.m. to 5 p.m.. Campers, day hikers, and horseback riders are all welcome in the dining room. Breakfast and dinner are also available to backcountry travelers with advance reservations.
Guest rooms
All reservations get a private room. No dormitory style housing is available.
The guest rooms are comfortable, but not modern. No electricity, heat or running water.
Linens, blankets, pillows and hand towels are provided.
Flashlights are recommended for night use. No candles, fueled lights or flames of any kind are allowed indoors.
The restroom facility is outside, with sinks for washing up (no showers or hot water).
Check-in time is whenever you arrive (hopefully by 6 p.m. for dinner), check-out time is 10 a.m.
Sleeping bag accommodations are not available at Sperry Chalet. A National Park Service campground is available in the Sperry area for those who wish to backpack and camp out. For information on backcountry camping permits in Glacier, see Glacier National Park's Backcountry Camping Guide.
What To Bring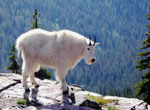 Mountain goats are resident natives of the Sperry/Gunsight area and are almost daily visitors. They are a delight to the photographer as they seem to pose for their picture. But be advised, you are visiting them, they are not visiting you. They are not always 'happy to see you'. Be careful. Do not approach wildlife.
While a toothbrush and a smile are all you'll probably need for an overnight stay, you should still come prepared for the wilderness. Sore, blistered feet and cold wet bodies are the most common fun killers that can be encountered. Be sure to have comfortable, appropriate footwear and good socks, rain gear, and some warm dry clothes with you.
Suggested items for your backpack:
Full water bottle (Bring two on hot days)
Insect repellent
Sunscreen
First aid supplies (Especially for blisters)
Food and snacks
Flashlight or headlamp
Warm clothing for wind & cold, rainy weather
Comfortable hiking shoes with extra socks
Weather
The weather in Glacier is temperate and unpredictable. Temperatures in July and August vary from 29 to 80 degrees F at chalet elevations (6500 feet). The evenings are usually cool and the buildings are not heated, so you'll need something warm for evenings and mornings. Always bring your rain gear in the event of sudden thunderstorms and rain squalls.
We are not responsible for the weather or weather related conditions.