Guided Interpretive Workshops
2023 season
Explore Glacier's back country with a knowledgeable, experienced, and personable guide while staying at Sperry Chalet.
July
Sun
Mon
Tue
Wed
Thu
Fri
Sat
1
2
3
4
5
6
7
8
9
10
11
12
13
14
15
16
17
18
19
20
21
22
23
24
25
26
27
28
29
30
31
August
Sun
Mon
Tue
Wed
Thu
Fri
Sat
1
2
3
4
5
6
7
8
9
10
11
12
13
14
15
16
17
18
19
20
21
22
23
24
25
26
27
28
29
30
31
September
Sun
Mon
Tue
Wed
Thu
Fri
Sat
1
2
3
4
5
6
7
8
9
10
11
12
13
14
15
16
17
18
19
20
21
22
23
24
25
26
27
28
29
30
Sperry Glacier Workshop
Science in the Wild
July 31 and August 1
August 1 and 2
August 3 and 4
August 4 and 5
August 11-12
August 12-13
Each Workshop includes:
Introductory evening overview session.
All day interpretive workshop with an experienced guide.
Wrap up evening session to be enjoyed by all.
Complimentary beverages and snacks provided.
Costs:
$60.00 per person in addition to the required two night chalet reservation.
Space is limited and reservations are required.
All workshops take place rain or shine.
Cancellations
Full payment for any interpretive hike is required within two weeks of booking and in advance of the chalet stay.
Deposits for canceled interpretive hikes will be refunded if the reservation is filled by another guest.
The charge for a canceled workshop is non-refundable if we are unable to re fill the vacancy.
Reserve your space by selecting the workshop option on your chalet reservation request.
---
Sperry Glacier Workshop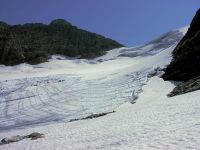 This all day workshop will take you to a high mountain valley carved by ice age glaciers. View glacial land forms, features of present day Sperry Glacier and the ecosystem inhabited by plants and animals that have successfully adapted to the alpine.
Your guide will be Janet Paul Bones, a former ranger naturalist in Glacier National Park, a teacher and presenter for the Smithsonian Institute and the Glacier Institute. She has been teaching field classes in Glacier National Park since 1984. Her longtime commitment to education and her extensive experience with Glacier National Park make this an extraordinary opportunity.
---
Science in the Wild 
Waterton/Glacier International Peace Park and other National Parks serve as outdoor science labs. Curiosity inspires researchers to design investigations that help answer important questions: Is the population of grizzly bears increasing? What is happening to the fire regime as our climate warms? As glaciers melt, which species will thrive? Which species will struggle? 
Observations made through field studies help us better understand the world around us. The data that is collected provides essential information to park managers who must determine how to best protect our national treasures for current and future enjoyment.
This workshop will explore several research topics including: wolverine population monitoring, fire ecology, & the changing alpine tree line. Participants should plan for a strenuous full day hike to Comeau Pass.
Your guide, Megan Chaisson, was an interpretive Park Ranger with Glacier National Park and Flathead National Forest for 10 years. Currently Megan is a Science Teacher who focuses her classroom instruction around data analysis & scientific writing skills to help shape engaged citizens. She continues to volunteer in the field counting migrating eagles, collecting hair samples for wildlife studies, and measuring snow survey data for ongoing climate research projects. Megan looks forward to sharing her knowledge and enthusiasm with each of you!
Hiking level: Strenuous.