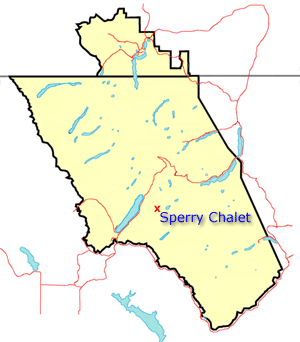 Glacier National Park
Location
Sperry Chalet is on the West Side of Glacier National Park. The main trail beginning at Lake McDonald Lodge.
You will find the chalet on the west side of Gunsight mountain. Situated on an alpine ledge overlooking Lake McDonald and the Whitefish Range. Surrounded by craggy peaks, cascading waterfalls and up and down vistas it is an area full of alpine nooks and crannies waiting to be explored by those who like to relax and enjoy "away from it all".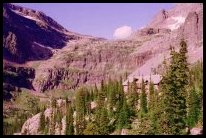 Trail Caveats:
No pets are allowed in the back country.
Trails are for hikers and horseback riders only; no bikes or other 'vehicles' are allowed.
Parking can be limited. To help alleviate parking congestion we encourage you to car pool or use public transportation for access to trailheads. Try Glacier's Shuttle System.
If you encounter a string of horses or pack animals on the trail, trail etiquette calls for hikers to step off the trail on the downhill side to let them pass.
---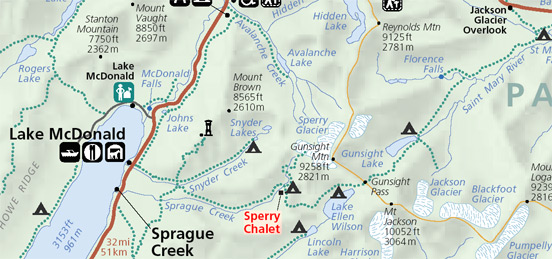 Trail Elevations (in feet):
Sperry Chalet: 6580
Lake McDonald trailhead: 3214.
Comeau Pass: 7970
Lincoln Pass: 7040
Gunsight Pass: 6946
Jackson Glacier Overlook: 5252
The Sperry Trail
TRAILHEAD: Lake McDonald Lodge.
LENGTH: 6.7 miles, 3300 foot climb.
AVERAGE HIKE TIME: 4.5 hours.
The main trail to Sperry Chalet starts in the beautiful cedar and hemlock forests of McDonald valley and the trail climbs to where the chalet sits near tree line. Be ready to break a sweat, the hike is strenuous and nearly entirely uphill, but any reasonably fit person can complete it feeling a good sense of accomplishment. Observe the effects of the 2017 Sprague fire through most of the hike with new growth, ample wildflowers, and a forest reborn.
There are spur trails that go to Mt Brown Lookout, Snyder Lakes, and Fish Lake about a third of the way up. Be sure to read the signs and stay on the correct path.
Recommendations:
Start early. Taking advantage of the cool morning air will make your hike more comfortable.
Bring plenty of water and stop to rest often.
The bridge at Crystal Ford (about a third of the way up) makes a great place for a rest and photography break on the way up, and an excellent spot to cool your feet and have lunch on the way down.
Use cookies to bribe and encourage your small children up the trail.
Gunsight Pass Trail
TRAILHEAD: Jackson Glacier Overlook on Going-to-the-Sun Road.
LENGTH: 13.5 miles. Multiple climbs totaling 3300 feet.
AVERAGE HIKE TIME: 9 Hours.
For the advanced and ambitious hiker, this all day adventure will take you through forest walks, alpine climbs, beautiful lakes, streams, cascading waterfalls, and across the continental divide. This is not a good hike for beginning hikers or the out of shape, but if you are up for it you will be rewarded with a wide variety of Glacier National Parks spectacular scenery and vistas.
Gunsight Pass typically remains snow covered until late July. The east side of the pass has very dangerous exposure (steep snow fields that run off cliffs) making a simple slip on the snow very perilous. Please check trail conditions before you get started. Ice axes, well-practiced self-arrest skills, and experienced hiking partners are strongly recommended if you want to take this trail earlier than mid-July. The Park Service posts updates about trail status here.
Recommendations:
Carry extra water and food.
Getting a late start is not an option. You will miss dinner at the chalet.
Gunsight Lake or the shelter cabin at Gunsight Pass make great spots for picnic lunches.
Be prepared to get your feet wet in the waterfall crossing at the head of Lake Ellen Wilson. Having a change of socks will help you.
This is an excellent route if you are combining a stay at Sperry Chalet with your backcountry camping expedition to Gunsight Lake or Lake Ellen Wilson.
If you are not sure if you are up for this route, try going into Sperry Chalet on the Sperry Trail. If you feel good about that hike and are ready for a greater challenge, use the Gunsight Pass Trail when you depart.
Sperry Glacier Trail
TRAILHEAD: Sperry Chalet
LENGTH: 4 miles (one way). 1500 Foot climb.
AVERAGE HIKE TIME: 3 Hours (one way).
Sperry Chalet's most popular side trip, this has been described as one of the most memorable and magnificent hikes in the park. Starting from Sperry Chalet you will climb above tree line and hike past gorgeous waterfalls, lakes and streams. The stone stairway at Comeau Pass will take you to even more breathtaking vistas. Don't stop there; you can't see Sperry Glacier yet. Follow the stone cairns another 3/4 mile to the glacier overlook.
Recommendations:
While it is possible to get from Sperry Chalet, up to Sperry Glacier, and all the way back down to the road in a single day; it will be a long and challenging day. Many of our guests prefer to stay at Sperry Chalet for two nights in order to explore Sperry Glacier at a more leisurely pace.
It will be much colder and windier up at Sperry Glacier than at the chalet. Bring a warm layer of clothing with you and don't get caught without your rain gear.
You will want your camera with you, and extra batteries are a good idea.
Horse Rides to Sperry Chalet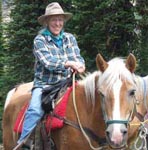 Depending on where you like your blisters, horseback rides to Sperry Chalet are also available.

Swan Mountain Outfitters provide daily horseback rides to Sperry Chalet. Their services are available for both overnight guests and day riders. The corral is near the trailhead at Lake McDonald Lodge.